Polyester (OKP Optical Plastic): For injection molding, raw material of the film
OKP is a special polyester for optical use arising from coal chemistry. OKP has a high refractive index of 1.6 or more, extremely low birefringence, and high fluidity. Therefore, it is easy to obtain high performance injection-molded objects and films.
Features
High refractive index
Low birefringence
Low Abbe number
High fluidity
Example of usage
Various optical lens
Various optical films
Other optical elements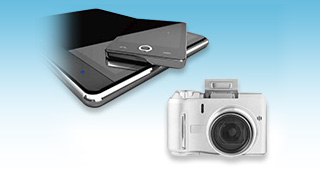 Comparison of birefringence

OKP4


PMMA (methyl methacrylate resin)


Polycarbonate resin


COP (cyclo-olefin polymer)
Abbe number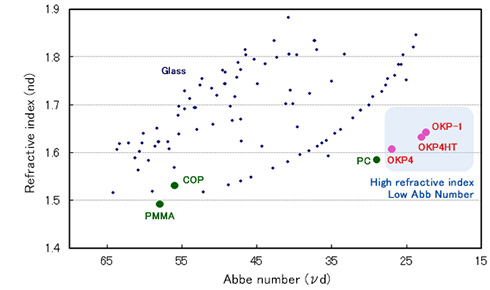 Physical properties
Properties
Unit,Conditions
OKP4
OKP4HT
OKP-1
Reference
PC
(Optical grade)
COP
Physical properties
Glass transition temperature
℃
121
142
132
145
139
Heat distortion temperature
℃,1.80MPa
106
123
115
123
122
Linear expansion coefficient
×10-5/℃
7.2
6.9
7.1
7.0
6.0
Optical properties
Refractive index (D line)
-
1.607
1.632
1.642
1.585
1.531
Abbe number
νD
27
23
22
29
56
Birefringence
×10-4,OGC method
< 5
55
< 5
128
53
Coefficient of temperature dependence of refractive index
×10-5/℃
-13
-11
-12
-12
-10
∗ Values of other resins indicated for comparison are quoted form catalogs and published documents.
New development product
Optical films (OKP-F)
Optical film can be produced by the melt extrusion method. It's a very low birefringence, orientation birefringence does not occur mostly by stretched.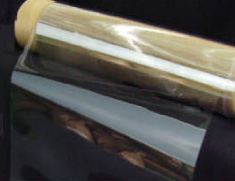 OKP particles
OKP particles is high refractive index polyester resin. It stabilizes to water. Particle sizes can be controlled.